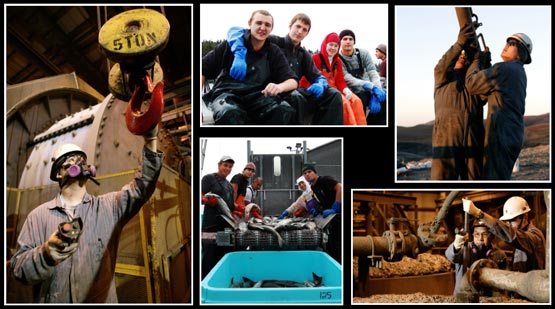 Retool for success with the Retail Management Certificate (RMC) program with the University of Alaska Anchorage (UAA), Community and Technical College. This certificate is a 30 credit academic program that takes approximately one year to complete. The certificate addresses a need for trained employees in the Alaska retail industry. The curriculum was developed through a collaborative effort between industry leaders and the educators of UAA. Students will complete courses in business writing, math, personal computers, bookkeeping/account, introduction to management, fundamentals of supervision, human relations, introduction to personnel, marketing practices and retailing management. All courses are available on-line.
The RMC program is available to assist people who are TAA eligible, as well as unemployed or under employed. The development of this program was made possible through a federal grant. For more information contact the Retail Management program at 907-786-7609. The website for the Retail Management Certificate program is: http://www.uaa.alaska.edu/eagleriver/academics/retail-management-certificate/
WORKERS -
Did you know your TAA training benefits never expire? If you were laid off of a TAA certified company, and you haven't taken advantage of training benefits, you may be able to take advantage of this great opportunity to upgrade your current skills or learn new ones.
If you aren't sure if you worked for a TAA certified company please click here to view a list of companies that were certified. If you can't see the page or have questions, please contact Laurie Fuglvog laurie.fuglvog@alaska.gov or call (907) 465-5926.
EMPLOYERS -
Are you facing layoffs or having to reduce your employee's hours? Maybe it isn't just the economy. Let TAA help you find out if it's because of foreign trade. If so, having your company certified could provide your employees with additional benefits not available to most workers. Please contact Laurie Fuglvog laurie.fuglvog@alaska.gov or call (907) 465-5926 for more information.
How We Help Trade Affected Workers
Lost your job due to no fault of your own? Has the impact of international trade caused or is about to cause layoffs at your company? Have your hours been reduced due to international trade? Read about the Trade Adjustment Assistance Program and the benefits and services you may be entitled to receive. There are currently two programs that may be able to help you.

TAA Benefits

Reemployment Services
Training
Job Search Allowance
Relocation Allowance
Alternative Trade Adjustment Assistance (ATAA) / Reemployment Trade Adjustment Assistance (RTAA)
If you do not qualify for TAA, there may be other training opportunities and reemployment services available in your community under Title I of the Workforce Investment Act (WIA). Information on the agency administering WIA services in your community can be found at: http://jobs.alaska.gov/training.htm
Nationwide information can be found at: http://www.doleta.gov/layoff/